Lessons from S Korea: Pak govt must take greater responsibility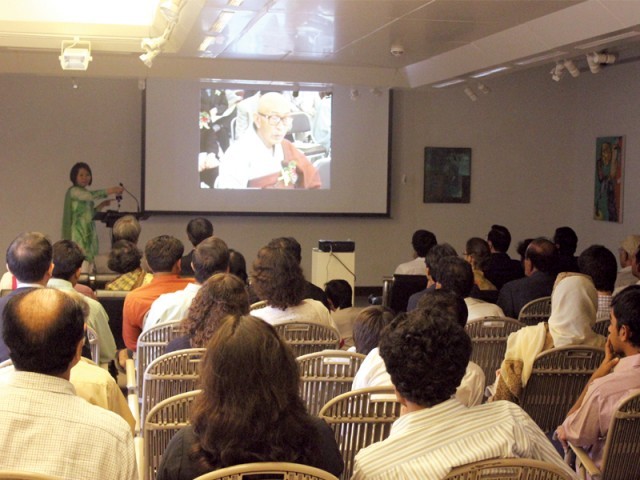 ISLAMABAD: Over a decade after it was revealed that the monk who introduced Buddhism to Korea centuries ago belonged to a town in Khyber-Pakhtunkhwa, ancient Buddhist remains in the town continue to be ignored by the local authorities.

Monk Maranantha, credited for spreading Buddhist teachings across the Korean peninsula in the late 4th century CE, hailed from Chota Lahore in Swabi district, according to Dr. Kyo Soon Park, founding member of the Gandhara Art and Culture Association.

Dr. Kyo Soon Park was addressing a small gathering, which included a visiting delegation of South Korean officials, at Islamabad's National Art Gallery on Sunday during the screening of a documentary on the hallowed monk.

She said Maranantha's hometown was a holy site for Buddhists everywhere, but it had not been well maintained since its discovery in 2000.

"This site is the equivalent of makkah for the Buddhists, but not even a single sign board has been put up to mark its presence," Dr. Kyo Soon Park said.

Indicative of the Pakistani government's lack of interest in developing the historical site, Ministry of Inter-Provincial Coordination and Ministry of National Heritage and Integration secretaries failed to make their scheduled appearances at the event.

Before 2000, the only known fact about Maranantha was that he was of Indian origin and had practiced Buddhism in China before arriving in Korea in 384 CE.

However, Professor Min Hae Sik and Dr. Kyo Soon Park found conclusive evidence through ancient texts and excavated artifacts that Maranantha actually hailed from Chota Lahore.

Excavations in the Swabi town also revealed the remains of a Buddhist temple dating back to Maranantha's time, giving further credence to the researchers' claims.

The documentary screened on Sunday was a re-enactment of Maranantha's historical journey from China to the present-day South Korean county of Yeonggwang by sea.

It depicted King Chimnyu of Korea's Baekje Kingdom inviting Maranantha to inform the monk about the teachings of Buddhism.

Maranantha ended up being as influential a Buddhist missionary for Korea as Paul the Apostle was for the spread of Christianity across the Roman Empire.

The five-member delegation comprising local government officials from Yeonggwang County including City Mayor Jeong Gi Ho, plans to visit Chota Lahore on Monday.

"I took a 22-hour flight from South Korea to Pakistan. Imagine what it would have been like for monk Maranantha to travel the same distance 1,700 years ago," Ho said.

In 2006, Yeonggwang County inaugurated a towering statue of Maranantha at the place where the monk is believed to have first landed on Korean soil.

Through a photo slideshow, Dr. Kyo Soon Park highlighted the preservation and development of historical Buddhist sites in South Korea, from who he said Pakistan could learn some lessons.

"The world heritage site of Sirkap in Taxila looks like a jungle now. We need to convince the government and the people to collaborate and develop these precious sites," Dr. Kyo Soon Park said.

Acid Survivors Foundation Executive Director and native of Chota Lahore Mohammad Khan, who helped Sik and Dr. Kyo Soon Park with their research, said Pakistanis had to help preserve the Buddhist sites.

"The local authorities have not done anything significant to preserve the Buddhist remains at Chota Lahore. We need to realize that an investment in this regard will benefit Pakistan in building a softer image and improving its tourism," Khan said.

He said the authorities could provide incentives to landowners to encourage cooperation during the preservation process.

Published in The Express Tribune, April 15th, 2013.

Source: http://tribune.com.pk/story/535623/lessons-from-s-korea-pak-govt-must-take-greater-responsibility/